---
CHOICE OF SCHOOL
Georgia House Bill 251, which was signed into law in May 2011, allows parents to request a transfer of schools for their children. This Bill applies to four schools in Crisp County: Blackshear Trail, J. S. Pate, A. S. Clark, and Southwestern. Parents can apply between July 1 and July 19. The request must be made in writing on the appropriate form and submitted to Dr. Gail Nesbitt at the central office by the July 19 deadline.
A school receiving transfer students cannot exceed maximum class size and must be able to do so without compromise of health and safety regulations.
Once a student is approved to transfer outside of their district it is the responsibility of the parent to provide transportation.
Generally, approval for transfers will not be made until after school starts. By the week of August 20, officials will have a final determination for all transfers requested. If requests exceed capacity, a lottery system will be used to determine eligibility to transfer.
---
CHILD FIND
The Crisp County Board of Education participates in Child Find through its Program for Exceptional Children. The Child Find mandate requires that all local educational agencies seek children between the ages of 3-21 who may be in of need Special Education services.
If a child is suspected if having a developmental problem, learning problem, or any other problem that inhibits academic or social growth, please contact the Crisp County Special Education Office at 229-276-3445.
---
Georgia Special Needs Scholarship (Senate Bill 10)
Under the Georgia Special Needs Scholarship (GSNS) law passed in 2007 (O.C.G.A. 20-2-2113), parent(s)/guardian(s) whose child meets the Georgia Special Needs Scholarship eligibility criteria have the right to request a public school transfer to:
Another public school within their district of residence; or

Another public school system outside their district of residence; or

To one of the three state schools for the blind or deaf
In order to qualify for the GSNS Program a child must meet the following requirements:
The student's parent currently resides within Georgia and has been a Georgia resident for at least one calendar year; and

The student has spent the prior school year (2011-2012) in attendance at a Georgia public school in grades K-12 and was in attendance for both the October 2011 and March 2012 full time enrollment counts; and

The student was served under an IEP written by the public school in accordance with federal and state laws and regulations during the 2011-2012 school year.
Transfers Within a School District
A school district considering a transfer between schools must evaluate the request based on capacity at a requested school(s) and the availability of a program at a requested school(s) which is aligned with a student's IEP. Capacity is defined in two ways:
Capacity of the school building based on established health and safety provisions; and

Class-size capacity by grade and subject, based on state law and rule.
Transfers Out of a School District
A school district considering a request for a transfer into its school system has the authority to approve or deny a public school transfer request for any reason. A school district considering a transfer can deny a request even if there is capacity and a program available that is aligned to the student's IEP within its system. If a request is approved, a school district can charge parent(s) for the costs of educating a student from outside its school district.
Important: Transportation under this public school choice option is the responsibility of a parent.
The Georgia Special Needs Scholarship deadline for the Crisp County School System is August 31, 2012. The path from www.gadoe.org is parents/policy/ Georgia Special Needs Scholarship ( http://www.gadoe.org/External-Affairs-and-Policy/Policy/Pages/Special-Needs-Scholarship-Program.aspx ).
To complete an application, contact Joy Ergle at the Special Education Office at 229-276-3445.
---
Documents can be saved, viewed, and printed from Adobe Acrobat Reader.
---
Link to School Menus. Click here.
---
---
---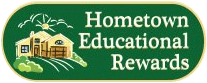 Register your Reward Key Code for the Harvey's Hometown Reward Program
to help your favorite Crisp County Schools:
---